---
"Adventure Kids Care = conscious care carried out with heaps of fun in a relaxed and natural environment."
Children learn through play while observing nature and its changes. In spring we hike, collect healing herbs, prepare magic lotions and potions; in summer we learn old traditions through magical characters and stories; in autumn we collect and prepare foods ready for the long cold winter and in winter we engage in traditional handicrafts as well as play in the snow and follow animal footprints.
No matter what we do, we learn to love, respect, discover and protect ourselves and nature. We grow in compassion and learn to accept everything as it is. We remember at all times that everything is constantly changing. This is why we do our best to become completely absorbed in the present moment and live our life fully.
---
"My Name is Michelle. I love raw chocolate because it grows on trees."
I am always curious, love nature, adventure and believe that anything is possible when we engage in a positive attitude along with a pinch of natural logic. For me, sharing joyful moments and experiences means caring because when we do things together they become much, much better. Creating 'Wish-Wonder-Surprise' wherever I go, my aim is to see you joyful and relaxed no matter what we do.
---
My past Experiences:
I have been very lucky to be able to work around the world:
Organizing dancing therapies and events for children in Indian villages under the auspices of UNICEF.
Raising awareness and creating various campaigns for the protection of Children's Rights in cooperation with the Council of Europe in Strasbourg.
Serving as a Camp Counselor, responsible for creating magic and many wonderful adventures at Camp 'Augusta' in the middle of Californian wilderness.
 Performing and executing therapies for children from poor and split families during Summer Camps in Croatia over past 10 years.
Regularly visiting and organizing best kids birthday and New Year's parties in Austria as well as skiing down in big pizza the highest peaks with the youngest ones.
Directing and implementing  wondrous summer camps for children in the picturesque mountains of Jezersko (Slovenia) for the last 2 years.
---
"Future – Invitation to Cooperate, Invest, Participate!"

Do you feel inspired?  We need your help make our future projects become a reality: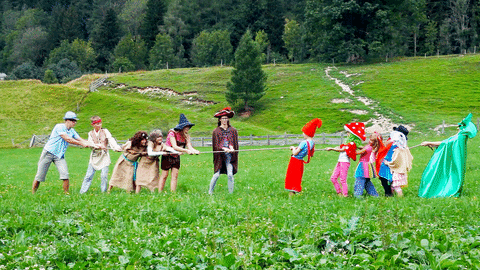 The Magic Factory: Events for families and kids introducing a new method of learning through wish, wonder and surprise.
Nature Learning Programme: Free-time activities that combine living with nature and mutual acceptance.
International Exchange Programme for Kids: Summer camps to encourage sharing and caring.
We invite you to participate:
Share our web page and your ideas
Become a mentor
Invest or donate into our future projects!
---
My Qualifications:
Masters in International Relations and Human Rights, Major in the Rights of Indigenous People and Children.
Qualified Yoga Teacher (incl. children, families and communities) under supervision of Rainbow Kids Yoga.
Fertility, Pregnancy and Baby Yoga under the supervision of Francoise Freedman.
Certified Aromatherapy Practitioner under the mentorship of world-famous herbalist Kathi Kevile.
British Association for Art Therapists and professional experience in the field of art therapy.
Teacher and Promoter of the Model of Compassionate and Non-Violent Communication under the supervision of Matthew Bloom.
---